EARLY DETECTION OF TYPE 2 DIABETES MELLITUS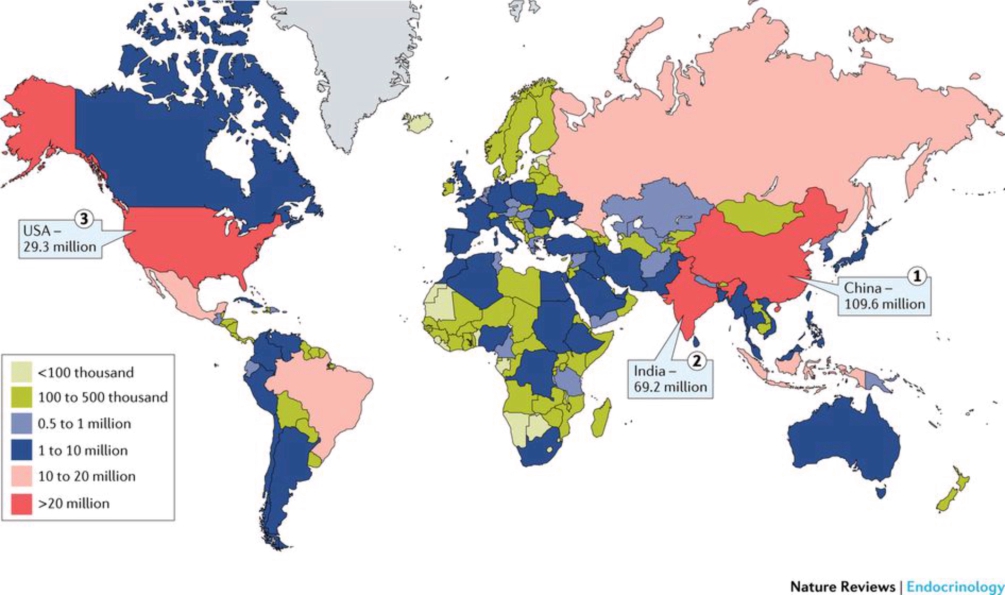 India is rapidly becoming the capital of diabetes in the world.
About 73 million Indians affected by Diabetes Mellitus says statistic by the "IDF"[1]
out every 2 persons having diabetes across the globe, are undiagnosed.[2]
Reason?
79% of all people having diabetes are from low or middle income countries.[2]
Negligent outlook towards regular body checkups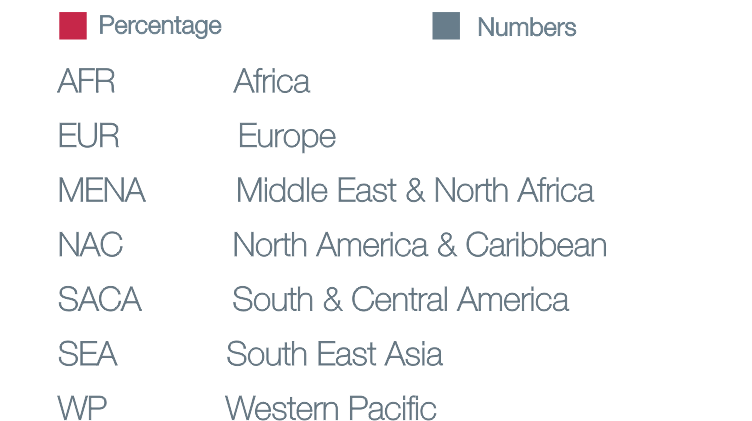 Undiagnosed percentage and undiagnosed cases of diabetes (20-79 years) by region[1]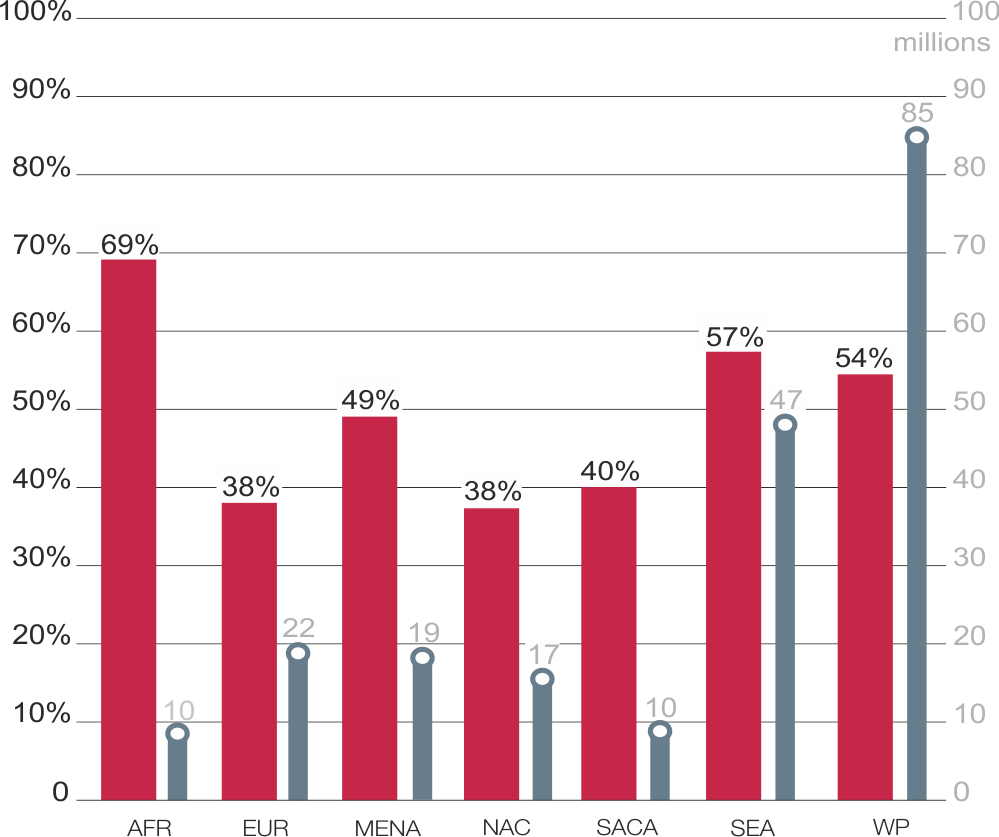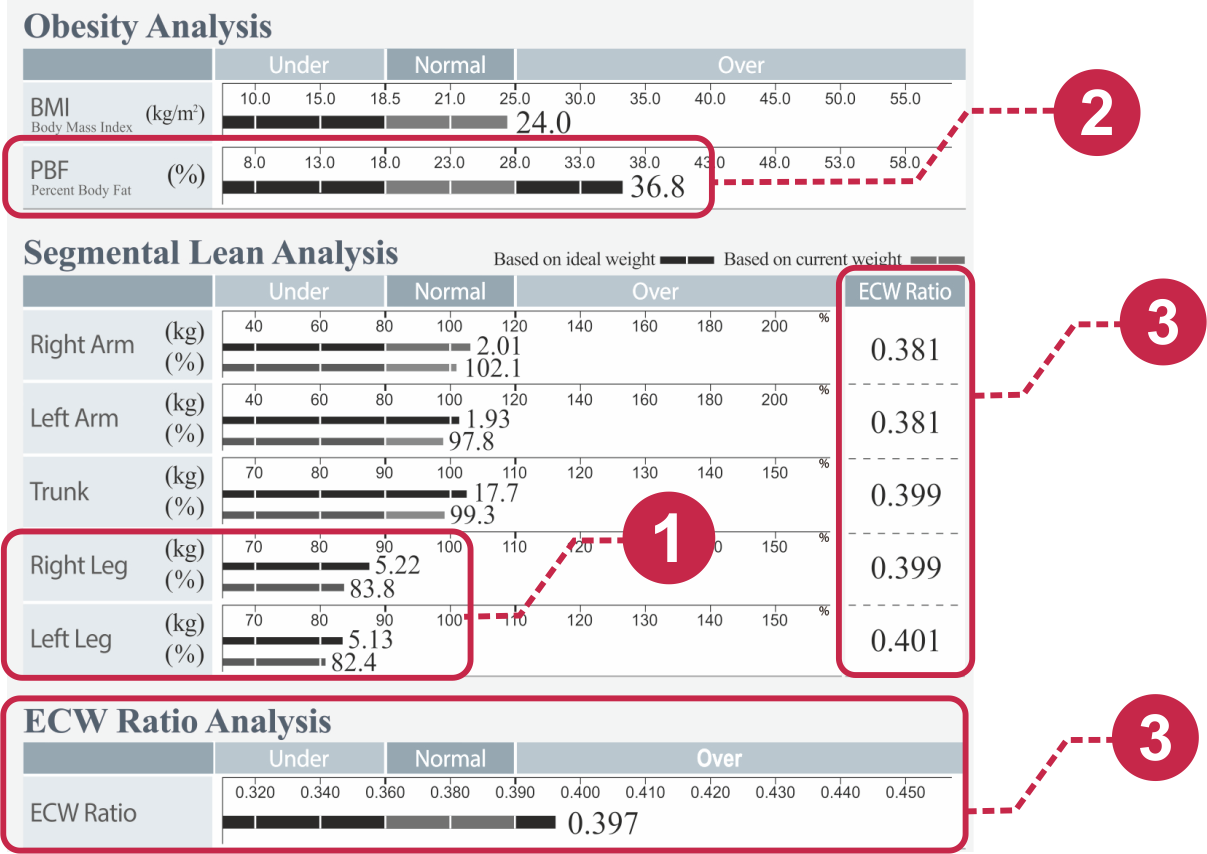 3 Points to be monitored early:
Leg Muscle Mass
Visceral Fat & Percent Body Fat (PBF)
Extra Cellular Water (ECW) Ratio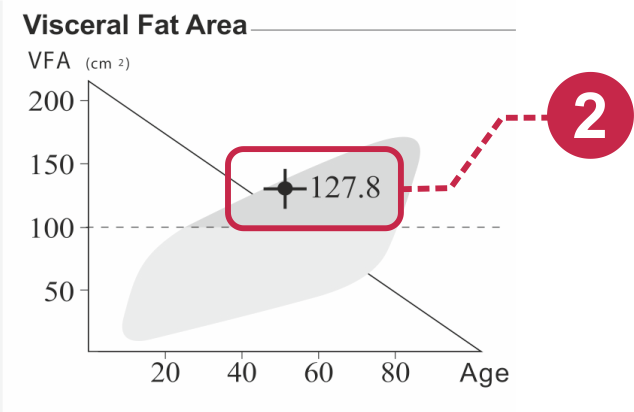 17.5% of Indians at or below the age of 65 years are sarcopenic[3], which is the decline of muscle mass in a person's body
Causes:
Aging
Under nutrition
sedentary lifestyle
nflammation
oxidative stress
decreased testosterone[4]

Skeletal muscles are the primary site of insulin [4] stimulated glucose disposal at euglycemia.[4]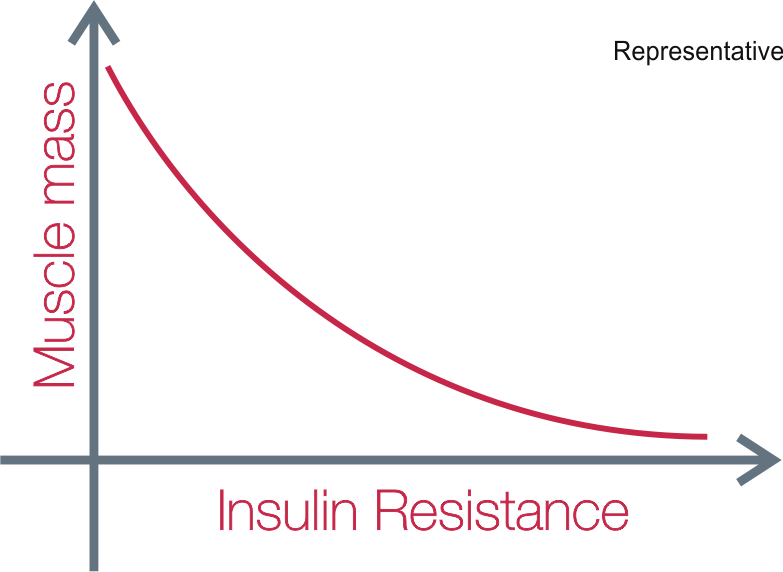 RESEARCH POINTS
Patients afflicted with diabetes have a 2x loss in thigh muscle, as compared to people who don't have diabetes[5]
A higher thigh muscle area is recommended to prevent insulin resistance, for people in normal range of BMI. However, in the case of obese/ overweight people higher thigh muscle area could be cause for concern.[6]
InBody APPLICATION
Lower leg muscle mass could be an early indicator for type 2 diabetes, which can be monitored through a Body Composition Analysis.
InBody gives a comprehensive and detailed segmental lean analysis within 60 seconds, of the Right Leg, Left Leg, Right Arm, Left Arm and Trunk.
Muscle mass below 90 percent on the legs, and SMI values below or close to 7.0 kg/m2 in men and 5.7 kg/m2 in women can be considered to be a red flag and the subject can be advised to go in for further tests.[7]
RESEARCH POINTS
*A research conducted on 198 peritoneal patients (141 non diabetics and 57 diabetics) concluded that the ratio of ECW to TBW is higher in diabetic patients 0.40 ± 0.01 vs 0.39 ± 0.01 for men; 0.39 ± 0.01 vs 0.38 ± 0.01. Hence proving a direct relation between the ECW ratio and diabetes mellitus[12]
*Percent Body Fat is a better indicator of cardiovascular risk factors than BM[13]
A research published in the Diabetes Research and Clinical Practice Journal, carried out a study on 61 patients with untreated DM, to calculate the M/I value as the insulin resistance reference indicator, elementary Body Composition was measured by impedance analysis using InBody 770. The study concluded that "muscle/fat ratio derived from

InBody770 is useful as a clinical surrogate indicator of insulin resistance in type 2 DM.

[9]
REFERENCES
https://www.idf.org/our-network/regions-members/south-east-asia/members/94-india
https://www.idf.org/aboutdiabetes
Stefanos Tyrovolas et.al; Factors associated with skeletal muscle mass, sarcopenia, and sarcopenic obesity in older adults: A multi-continent study; Journal of Cachexia, Sarcopenia and Muscle 7(3):n/a-n/a· October 2015
Seung Won Lee et.al; Appendicular Skeletal Muscle Mass and Insulin Resistance in an Elderly Korean Population: The Korean Social Life, Health and Aging Project-Health Examination Cohort; Diabetes Metab J; 2015; Page No. 38
Seok Won Park et.al; Excessive Loss of Skeletal Muscle Mass in Older Adults With Type 2 Diabetes, Diabetes Care. 2009 Nov
Seung Jin Han et.al; Association of Thigh Muscle Mass with Insulin Resistance and Incident Type 2 Diabetes Mellitus in Japanese Americans; Diabetes Metab J. 2018 Dec
J Am Med Dir Assoc. 2014 Feb;15(2):95-101
Seok Hui Kang et al; Association of Visceral Fat Area with Chronic Kidney Disease and Metabolic Syndrome Risk in the General Population: Analysis Using Multi-Frequency Bioimpedance; Kidney Blood Press Res 2015; 40:223-230
Noboru Kurinami et al; Correlation of body muscle/fat ratio with insulinsensitivity using hyperinsulinemiceuglycemicclamp in treatment-naive type 2 diabetes mellitus; Diabetes and Research Clinical Practice 120 (2016) 65-72
Dr. Anoop Dinesh Shah et al; Type 2 diabetes and incidence of cardiovascular diseases: a cohort study in 1·9 million people; The Lancet Diabetes & Endocrinology Volume 3, Issue 2, February 2015, Pages 105-113
https://www.kidney.org/atoz/content/diabetes
Davenport A. et al; Does Diabetes Mellitus Predispose to Increased Fluid Overload in Peritoneal Dialysis Patients? Nephron Clin Pract 2010;114:c60–c66
Qiang Zeng; Percent body fat is a better predictor of cardiovascular risk factors than body mass index; Braz J Med Biol Res. 2012 Jul; 45(7): 591–600
Categories
Trending Articles